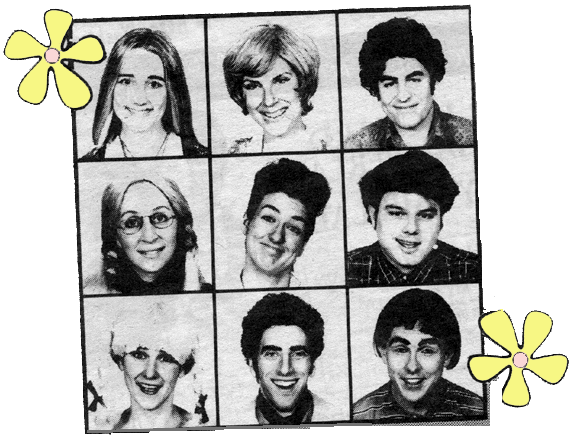 CAST



Barry Saltzman (Mike Brady) has appeared in many theaters around the country. In Chicago, his home base, Mr. Saltzman's credits include: Broadway Bound, Julius Caesar, I Am a Camera, On the Verge, The Skin of Our Teeth, and many others. Regionally, Mr. Saltzman has appeared in The Miser, The Liar, and Green Stockings in Wisconsin and in Weekend Comedy in Alabama. Mr. Saltzman was also in The Cashier at the Kennedy Center and is a graduate of Indiana University.

Kate Flannery (Carol Brady) was born in Philadelphia and is a graduate of the University of the Arts in Philadelphia. After moving to Chicago to study improvisation, she fell into the Annoyance Theatre, toured with the Second City, and then fell deeper into the Annoyance. Ms. Flannery has helped create show after show at the Annoyance, including Manson/The Musical, Viva Las Elvis, Wookie, Wookie, and The Lampshades (her lounge act). Ms. Flannery is a co-winner of the L.A. Weekly Award for Best Comedy Ensemble. A part of The Real Live Brady Bunch since its beginnings. Ms. Flannery has proudly played more than twelve Brady roles.

Kathy Jensen (Alice) is a native of the Twin Cities and a graduate of the theater program at the University of Minnesota. After graduation she took off for Chicago to be a member of the comedy group The Illegitimate Players, where she received a Best Supporting Actress award for her portrayal of Blanch in their production of The Glass Mendacity, as well as an Ace Award for the same production. She graduated from Second City and moved to Los Angeles, where she landed herself a regular spot as a stand-up at the Improv. She is looking for her Sam, the Butcher.

Jim Tosney (Greg Brady) is a recent graduate of Boston University's School of Fine Arts, where he played Artie Shaugnessy in The House of Blue Leaves and Danforth in The Crucible on the Huntington Main Stage. He teaches children's theater in Brookline, Massachusetts. He wants to thank his parents and Kippy. He has always enjoyed dressing up in seventies clothing especially bell-bottoms.

Kimmin O'Donnell (Marcia Brady) is a Boston native and recent honors graduate of Emerson College. She is making her professional debut as Marcia Brady in The Real Live Brady Bunch. Her greatest inspiration is Eleanora Duse, the great nineteenth-century Italian stage actress. Ms. O'Donnell dedicates all of her performances to her family, Daniel Sklar, and especially to Robert Maigret.

Anthony Capulina (Peter Brady) is a native of Chicago, where he starred in Whatever Happened to Baby Jane/The Musical Slap! and Stand By Your Man. Mr. Capulina has since moved to Los Angeles, where he starred in Oedipus Schmedipus (As Long As You Love Your Mother) by Rue McClanahan. Mr. Capulina just left the extended run of Texanna-Arranges the Planets and Saves Your Family From the Gates of Hell, a dysfunctional family comedy.

Carrie B. Aizley (Jan Brady) has spent most of her life in Boston. She studied theater at the Next Move Theatre in Boston, the Herbert Berghof Studio in New York City, and Boston University. Ms. Aizley has also taught children's theater for The Freelance Players and at Creative Arts At Park, both based in Boston. Most recently Ms. Aizley has been studying and performing improvisation in the Boston area. She thanks her family for all their support and her friends.

Biff Rickard (Bobby Brady) makes his professional stage debut in The Real Live Game Show and The Real Live Brady Bunch. He was in a play in third grade about some pickles and some gold coins. He does not recall its title. He is single and loves math.

Nora Laudani (Cindy Brady) has most recently been working as an improv comedienne with the U.S.I.T.L. in Boston. Throughout this time she has continued her voice-over work for public television and Simon and Schuster. After appearing in Saint Joan, A Girl's Guide to Chaos and touring with Beau Jest Moving Theatre, she wrote/choreographed Decapitated Jabbering Head at the DIA Foundation in New York.

Jeff Jeffries (Game Show Host) was born and raised in Cambridge, Massachusetts. After a brief stop as a theatre major at Connecticut College, Mr. Jeffries made his way to Chicago to study improvisation at Second City. He then moved on to Los Angeles, where he became one of the "Best of the New Faces" at the Improvisation and a regular member of The Second City Alumni Players at the Upfront Theatre. Mr. Jeffries has appeared on CBS - The Young and the Restless", where his character could recur at any moment.

CREW/PRODUCTION



Eric W. Waddell (Creator) decided that the only way to fulfill his ambition of hosting a game show was to write his own show and host it, which he did in March of 1990. Mr. Waddell grew up outside of Indianapolis, Indiana, and escaped to Chicago immediately after graduating from Indiana University with a marketing degree. He recently produced a pilot of The Real Life Game Show for television. Mr. Waddell also recently finished writing and performing in a sketch comedy show for MTV.

Jill and Faith Soloway (Creators/Directors) created The Real Live Brady Bunch together in Chicago in June of 1991. They have co-directed the show in Chicago, New York and Los Angles. They recently teamed up again to produce a sketch comedy pilot for MTV. Faith went to Indiana University, then musically directed many shows at Second City. She has been musical director for Real Live TV Night in Chicago, New York, Los Angeles and San Francisco, and she points to Frank DeVol as her musical mentor. Jill went to the University of Wisconsin, then produced documentary films, including her own "women's film" parody, Women Across America.

Warren Coleman (Tour Director) is a director, writer and performer who has for more than a decade worked with the unusual and successful comedy and music troupe The Castanet Club, playing festivals everywhere, including Edinburgh. Mr. Coleman has worked extensively in theater, and he recently co-wrote and starred in the play Buzz. On television he was in Kennedy-Miller's Vietnam and The Shiralee and in Yahoo Serious' films Young Einstein and Reckless Kelly. He also writes and presents for ABC Radio. In 1991 he was a contestant on Sale of the Century, winning two cars and a bunch of prizes. He was assistant directory of the opera Nixon in China for the 1992 Adelaide Festival, and since last July he has been directing The Real Live Brady Bunch in both Sydney and Melbourne, Australia. His ambition is to meet Stanley Kubrick or Richard Nixon, whoever comes first.

Terry Jackson (Production Stage Manager) hails from Los Angeles, where he has been the technical director at the Westwood Playhouse for the last three years. A highlight of his career has been playing a high school girl in The Real Live Brady Bunch episode with Davy Jones. Mr. Jackson enjoys bowling, sleeping and singing the blues by the light of the moon.

Nanette Mickle (Stage Manager/Female Understudy) hails from San Francisco, California, and among other things was a featured dancer on KOFY-TV 20's Disco Dance Party. She joins The Real Live Brady Bunch after winning the grand prize (A Brand New Car!) on The Real Live Game Show. She is inspired by Jamie Sommer's stamina, Diane Prince's accessories, Shirley Feeney's high hopes, Tootie and Natalie's friendship, and the embodiment of Alexis Morell-Carrington-Colby-Dexter-Colby-Carrington-Colby-Rowan-Colby.

Mark "Radar" Hennen (Company Manager) It takes radar to maintain a watchful eye on this adventurous troupe. The nickname "Radar" was given by Phil Collins upon the completion of Mr. Hennen's work as office production manager on his recent world tour with 'Genesis'. Now he proudly steps forward from the ten year anniversary tour team as company manager. A note of thanks to the team he works with and to you, the audience, for making each performance special.

David Alexander (Musical Director) Everything Mr. Alexander has done in his life thus far has shaped and molded him to be a musical director. Mr. Alexander played a small part on the Boston band scene from 1982 to 1986. He then went into the cabaret scene with various performers such as Tony Rose, Leah Delaria and Brenda Lyons. In 1989 he joined Guilty Children as musical director, as well as other Boston improv comedy troupes, including Improv Boston, Renegade Ducks, Roadkill Buffet, and W.S.I.T.L. In January 1993 Mr. Alexander received great reviews for the music he wrote and performed for a new play called Waiting for Gaugreau. Most recently, Mr. Alexander was musical director for The Grand Duke (Gilbert and Sullivan's last opera). Mr. Alexander's life dream has been partially culminated by being musical director for The Real Live Brady Bunch.

Maria Production, Inc., Maria Di Dia, President (General Manager) has worked on more than 120 theatrical productions since 1970. Since October 1991 Ms. Di Dia has been the executive producer of the highly successful Blue Man Group in Tubes at the Astor Place Theatre. Currently Ms. Di Dia is the general manager for the hit musical revue Back to Bacharach and David, the musical of Burt Bacharach and the lyrics of Hal David directed by Kathy Najimy. During the past two years Ms. Di Dia has been involved with productions of Lynda Barry's The Good Times are Killing Me; Pageant, the last word in beauty; Distant Fires by Kevin Hellan; and The Destiny of Me by Larry Kramer. Ms. Di Dia was also the general manager of the successful New York production of The Real Live Brady Bunch and The Real Live Game Show.

TBOHO, Inc. (Three Boys of His Own) (Producer) is an affiliate of The Booking Office, one of the premier Broadway booking agencies in the United States, currently representing the 1992 Tony Award winner for Best Musical, Crazy For You; Andrew Lloyd Webber's Evita; Wendy Wasserstein's The Sisters Rosensweig; A.R. Gurney's Love Letters; starring Robert Wagner and Stefanie Powers; and Rodgers and Hammerstein's The Sound of Music, starring Marie Osmond.

Allan S. Gordan (Producer) a graduate of Harvard Law School, has long had a keen interest in the theater. He has been actively involved in the financing of numerous film and theater ventures through his investment banking firm Gordon, Haskett & Co. In 1990 Mr. Gordon produced Sammy Cahn in Person - Words & Music, an expression of his support of theatrical events that not only have historical significance, but also the ability to entertain and enlighten. Mr. Gordon's production of The Real Live Brady Bunch is, in his own words, "a joyous remembrance and celebration of things past."

Sandor Margolin (Sound Designer) brings more than thirty-five years of recording, sound design, and production experience to hundreds of industrial, musical, and theatrical shows throughout the country. He is president of SMAVSCO, Inc. a sound, lighting and staging company located in Hyde Park, New York. He is a member of the National Sound and Communications Association (NSCA) and the Society of Motion Picture and Television Engineers (SMPTE). For the past five years he has been an artist-in-residence/sound designer for Theatre-by-the-Sea at Matanuck, Rhode Island.
---
Information comes from the Kennedy Center Program, Washington, D.C. (June, 1993).