BARRY WILLIAMS
(Gregory "Greg" Brady)

Born: September 30, 1954



Many people say that Barry Williams is a Television Icon, well known for his portrayal of Greg Brady on the hit television series The Brady Bunch and the many Brady television reunions, specials and movies that followed. Then, as now, the Brady's are one of America's most beloved and admired television families of all time. Currently it is one of the highest rated shows on TV Land.

Recently Barry Williams released his first pop CD entitled The Return of Johnny Bravo. The CD contains a combination of great classic pop songs that hold a special personal meaning to Barry. Familiar songs include: Celebrate, Happy Together, Hip To Be Square, and Drift Away. The music and the sound of the CD are current and hip, with a few surprises for the core Brady fan. Barry has performed those songs on the same stage with such diverse artists as 'N SYNC, Smashmouth, Marc Anthony, Goo Goo Dolls, Christina Aguilera, Jessica Simpson, Enrique Eglesias, Sugar Ray, Lenny Kravitz, Brian McKnight, Paula Cole, Melissa Ethridge, and others.

Barry's #1 Best Selling Book Growing Up Brady/I Was A Teenage Greg sold more than 300,000 copies and has been updated. This Special Collectors Edition features new chapters and never before seen photos. Barry executive produced his book into a two-hour television movie for NBC. The movie was watched by more than 20 million viewers and was one of the highest rated made for TV movies in NBC's history. Recent television credits include a re-occurring role on S Club 7, appearances on Fear Factor and Fox Television's Celebrity Boot Camp as well as a role in Paramount Pictures feature film, Dickie Roberts.

From television and films, to best selling author, to entertainer and singer, Barry has enjoyed tremendous success. Immediately following The Brady Bunch, Barry auditioned for Bob Fosse and starred in Pippin on Broadway and the National Tour. Since then Barry has starred in more than 75 productions including Victor Victoria, The Music Man, City of Angeles, Romance/Romance, Man of LaMancha, Guys and Dolls, and The Sound of Music. Barry performs regularly in Las Vegas, for corporate shows, and theaters around the country, delivering an exciting evening of music that is interactive with the audience and fun for the entire family.



---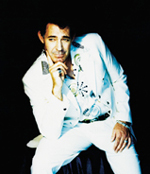 | | |
| --- | --- |
| | FAN MEETINGS |
| | OTHER CREDITS |
| | TV LISTINGS |
| | CAST AREA |
| | HOME |