FLORENCE HENDERSON
APPEARS AT THE INTERNATIONAL
HARDWARE SHOW
IN CHICAGO, ILLINOIS
August 15-16, 1999
This page was contributed by FloFan Cindy Dingwall
Florence Henderson greets fan, Cindy Dingwall. Cindy has been a fan of Florence's since she saw her in "The Sound of Music" at Chicago's Shubert Theatre in 1961.




Florence came to Chicago to promote DampRid, one of the sponsors of "Short Cut Cooking." Florence and her husband, John, use it to keep the mold and mildew out of their floating home in Marina Del Rey, California.

Florence joyfully visited with many "Brady Bunch" fans. People told her how much the show has meant to them over the years. Some people told how they watched it as children, and now their children are captivated by it. Others told how their own kids and now their grandkids enjoy the show. Florence told us all that she has only happy memories of her years with "The Brady Bunch." She is grateful to all of the show's loyal fans.






Florence gave out autographed photos of herself promoting DampRid and autographed "Brady Bunch" photos. People took those home to their kids! A few people admitted they were taking the photos for themselves!




Florence is thrilled about her new show, "Later Today," that will debut on Tuesday, September 7...on NBC following "The Today Show." Tune in and watch Florence...and be prepared for some awesome surprises!

---

Photo on front page was Florence with Mr. Musty, the DampRid Mascot, who was enthalled with her enthusiasm, beauty and energy!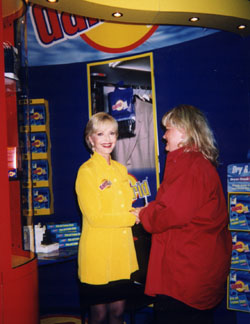 | | |
| --- | --- |
| | MORE STORIES |
| | HOME |