Pamelyn Ferdin
BORN FEBRUARY 4, 1959

NOT SO UGLY DUCKING - 1970 (PARTY GUEST)
WILL THE REAL JAN BRADY PLEASE STAND UP - 1971 (LUCY WINTERS)

---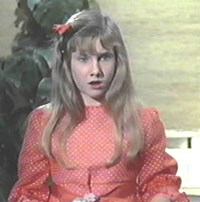 Written Interview with Pamelyn Ferdin (Sept., 2000)

What was it like to be on The Brady Bunch?
I remember how very friendly everyone was to me on the Brady Bunch set. I didn't spend much time with the cast and crew, as I was very busy in those days and was likely whisked to my next job right after filming The Brady Bunch. I do cherish the memories of my friendly association with Sherwood Schwartz.

Did you appear in any other episodes besides, 'Will the Real Jan Brady, Please Stand Up'?
Yes, I was on the show in 1970 and in 1971 in "Not So Ugly Duckling" and "Will the Real Jan Brady, Please Stand Up?"

Prior to your appearance were you a fan of the show?
Honestly, I didn't have much time to watch TV in those days, but I did see the show whenever I could. Isn't it interesting that it was a show about a bunch of kids living a fairly normal life, being acted out by a bunch of kids whose lives were far from normal.

What, if any, affect did the appearance have on your career over the years? Are you still associated with or recognized from being on the show?
Being on The Brady Bunch was a very good credit on my resume, and because of the program's continued popularity, people are more impressed today that I was the show then they were back in 1972. People are always coming up to me and telling me that they remember me as being a guest star on the show.

What are you currently doing today.
I am still acting and doing voiceover work. I can currently be heard as the voice of "Shelly Kelley" on the Fox Network's animated series, "Detention." Check your local listings. I am an advocate and spokesperson for the humane treatment of animals. There is an interesting story related to my concern for animals that I have published on my official web site.

Anything you would like to add in regards to your overall career or what current projects you are working on?
My manager and I are in the early stages of setting up a cross country speaking tour in which I'll be discussing my career, and talking to parents of future children in acting, the right way to guide their careers insuring a normal, healthy childhood. Keep your eye on my web site for details.

Thanks so much for your interest in me and my career. Maybe someone will cast me on the next Brady Bunch Reunion Show.... if there is one! Pamelyn Ferdin.
---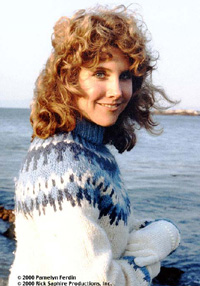 (Photo taken in 2000)

EMAIL: PAMELYN FERDIN


| | |
| --- | --- |
| | OFFICIAL WEBSITE |
| | INTERVIEWS |
| | HOME |