Dabbs Greer
BORN APRIL 2, 1917
DIED APRIL 28, 2007

APPEARED AS A MINISTER IN:
THE HONEYMOON - (1969)
THE BRADYS (1990)

---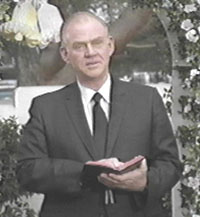 Information supplied by Dabbs Greer
Dabbs Greer has appeared in 74 Stage Plays, among them, Outward Bound, Candida, Wingless Victory, Our Town, Arsenic and Old Lace, Taming of the Shrew and The Iceman Cometh.
He also directed 53 plays and was employed by the Pasadena Playhouse for 8 years in the numerous positions of actor, director, instructor, and Dean of Academic Studies. Some of his directing credits are Dear Brutus, Camille, The Fisherman and His Soul and Romeo & Juliet.
Turning to the camera, Dabbs Greer appeared in 99 Feature Films, among them Rage, Cheyenne Social Club, Meet Me in Las Vegas, House IV and Con Air.
However he is probably best known for his television appearances, to-date he has appeared on a total of 576 television episodes. He was a regular on shows such as Big Town (1954), Gunsmoke (1956-1964), Hank (1965-1966), Ghost and Mrs. Muir (1968-1969) and Little House on the Praire (1974-1983) as Reverend Alden.
He made two Brady related appearances as a reverend. In "The Honeymoon" (1969) when he married Mike and Carol and again in "Brady 500" (1990) when he married Bobby and Tracy.
When asked what he was currently doing, his response was, "Waiting out the next job!"
---