MICHAEL LOOKINLAND
(Robert "Bobby" Brady)

Born: December 19, 1960

(As seen on Entertainment Tonight 12/99)
Kelly, Scott, Mike, & Joey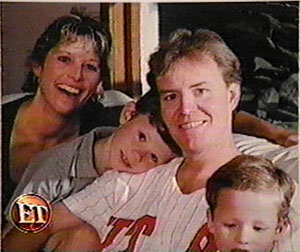 Fate played a role when Mike Lookinland's family decided Mike should play Bobby Brady (over a role in The Courtship of Eddie's Father). Had the decision gone the other way, Brady fans would have come to know a totally different Bobby Brady.
Mike made friends with the camera at an early age. When a co-worker of Mike's father remarked on the seven year old's wholesome looks, the family was encouraged to send Mike out on a few auditions. By 1969, he had already appeared in more then 30 television commercials; including yogurt, playing with a radiation dump truck (Eldon toys), along with spots for Band-Aid and Cheerios.
Michael Paul Lookinland was born December 19, 1960 in Utah. However, when his acting career took off the family relocated to Southern California. During the filming of the 117 episodes of The Brady Bunch Mike had the childhood dream of playing football with Joe Namath, visiting the Grand Canyon and Hawaii. Lookinland once claimed, "The part of Bobby seemed natural to me, as it was just a kid, playing a kid."
Off screen, Mike enjoyed a close relationship/friendship with his television brothers and sisters. He was especially close to Susan Olsen (Cindy) and has recalled the two of them having sleep overs at each other's homes. He has said that Susan's house was more fun because, "she had a big back yard and eight dogs."
He was also buddies with Christopher Knight (Peter) and Barry Williams (Greg). The three of them were known to play on the television sets of other Paramount productions, such as Bonanza. It is known that Sherwood Schwartz, the creator/producer of The Brady Bunch, made sure the Brady kids were able to play and be normal kids.
Michael also fondly remembers Robert Reed who took all the kids on a vacation to New York and then onto London aboard the QE2 cruise-liner. But the most significant influence was when Robert Reed gave Super 8 movie cameras to all of the kids for gifts. This was the start of Michael's fascination with cameras.
Mike soon discovered he really liked making movies. Michael used to sit next to the camera men on the set and ask tons of questions, learning all he could. Following The Brady Bunch, Michael would begin to focus his interest to being behind the camera instead of in front of it. Some of his camera technician credits are working on the CBS show Promise Land and Touched By and Angel, both filmed in Utah. His wife, (since 1988), Kelly, is also a Script Supervisor on Touched By An Angel. The couple have two sons, Joey, born in 1993 and Scott, born in 1990. Mike has also worked with Stephen King on his film, The Stand, where he also made a cameo appearance.
Most recently, Michael's son, Scott was cast has his father in Barry Williams' movie Growing Up Brady. Michael, had a brief cameo appearance in the film as a cameraman. Scott, also appeared on the Donny & Marie show with his father, along with other Brady cast members. On Donny & Marie Michael recalled how in the beginning of The Brady Bunch make-up artists had to dye his blonde hair black to match that of his male co-stars. Scott endured the same experience in making Growing Up Brady.
Though Michael has had a few bumps along the way, his path in life has proven to be that of success, from commercials, to our favorite little brother, and now he's looking at life through the camera lens. His most recent work is that of a camera assistant on the movie, The Way of the Gun. We hope he continues to work behind and in front of the camera for years to come.

---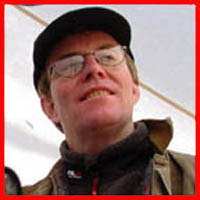 | | |
| --- | --- |
| | OTHER CREDITS |
| | TV LISTINGS |
| | CAST AREA |
| | HOME |