FLORENCE HENDERSON
(Carol Ann Tyler Martin Brady)
1934-2016



Florence Henderson was born February 14, 1934 in Dale, Indiana, a very small midwestern town with a population of about 700. As a child, she lived in poverty. She was the baby of a very large (ten kids!) Irish Catholic family. At the time of her birth, the United States was in the midst of the Great Depression. Her parents were very poor, yet had ten kids to feed, clothe, and shelter. From a very young age, Florence learned how to survive in these adverse conditions. Florence has said many times that her mother taught her how to sing. By age two, Florence had learned fifty songs! Her talent helped the family tremendously, as she was asked to sing in front of wealthy friends and "pass the hat" for money. In her 1988 book, "A Little Cooking, A Little Talking, and a Whole Lot of Fun," she mentions how all of the attention she received as a young child made her somewhat uncomfortable and she would sometimes close her eyes while singing so that she didn't have to look at all the adults watching her. Besides learning to sing at an early age, Florence began attending school early. She remembers being three or four years old and attending class with some of her older siblings. When she wasn't attending school or singing for money, she was working on her father's farm. From the age of eight, she was trained to work out in the fields for many hours a day. Other jobs she had as a child were housecleaning and babysitting. As a teenager, Florence worked as a soda clerk at a bus station ice cream shop. She remembers being too generous with her customers, giving them two scoops of ice cream instead of one. In 1951, just a few months after her 17th birthday, she graduated from the St. Francis Academy in Owensboro, Kentucky. She was very involved in music and theatre in high school and was sponsored by the family of a wealthy friend to study for two years at the American Academy of Dramatic Arts in New York.

When she arrived in New York at the age of 17, she was in awe of how different it was from her hometown in southern Indiana. While studying at the American Academy of Dramatic Arts, she attended an audition for a Broadway show about young adults on vacation called "Wish You Were Here" She was considered for the lead, but another girl who had the strong New York accent required for the role was chosen instead and Florence landed a one-line part in the chorus. Richard Rodgers saw Florence in "Wish You Were Here" and was so impressed by her performance that he cast her as the lead in the last national touring company of "Oklahoma!" This role brought Florence national exposure. A year later, Joshua Logan, who also directed "Wish You Were Here" casted Florence in his new Broadway show, "Fanny". By this time, Florence was all of 20 years old. She beat out older stars like Maureen O'Hara and Julie Harris for the role. Florence was also appearing on television at the time, guest starring on shows such as "Coke Time with Eddie Fisher" and "The Ed Sullivan Show" In 1958, Florence appeared in industrial shows and commercials with Oldsmobile and was also a regular on a show called "Sing Along," which she co-hosted with Bill Hayes.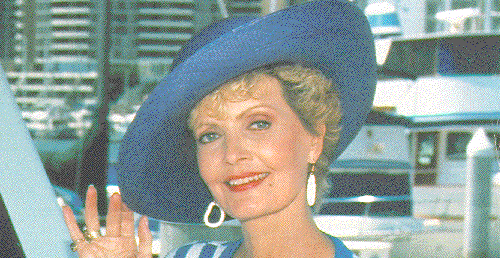 Luxury Lifestyle "Where Are They Now", July, 1994.
During the 1950's, while she was appearing on Broadway and enjoying her newfound success, Florence was suffering from painful leg and back cramps. This was a major problem for her because she had many dance numbers in those shows. After going to a doctor and being X-rayed, she was diagnosed with a deformed vertebrae and was prescribed exercises to strengthen her back. A few years later, she started noticing problems with her hearing. She would miss cues and ask people to repeat what they had said many times. She visited another doctor and was diagnosed with a hereditary condition called otosclerosis, which was corrected through surgery. Without the operation, she would have gone deaf, which would have become a tragedy as she was a singer.
In the mid-1950's, Florence Henderson started a family of her own. In January of 1956, she married theatrical manager Ira Bernstein and later that year, gave birth to a daughter, Barbara. She kept her maiden name, however, likely because it was the name people recognized her by. In 1959, Florence became one of the "Today Girls", for "The Today Show" As the "Today Girl", Florence read the news and weather forecasts and occasionally sang. During her yearlong run as the "Today Girl" Florence became pregnant with her second child, Joseph, who was born in 1960. Because this was the 1950's and saying the word "pregnant" on television was a mortal sin, Florence was hidden behind potted plants and tables during her musical numbers.
In the 1960's Florence continued to perform both on stage and on television. In 1961, she toured the country in the Rodgers and Hammerstein musical "The Sound of Music" as Maria Von Trapp. This was one of her most favorite performances. ("Raindrops on roses and whiskers on kittens...") She starred in the 1963 Noel Coward Broadway show "The Girl Who Came to Supper", which was about an chorus girl who falls in love with an English prince. Meanwhile, on television she appeared on shows such as "Car 54, Where are You?", "The Bell Telephone Hour" and "The Tonight Show", for which she was the first female host. During the 1960's, Florence had two more children, Robert in 1963, and Elizabeth (Lizzie) in 1966.
Come 1968, Sherwood Schwartz was shooting a pilot for a series about a woman with three daughters who marries a man with three sons. He was looking for a woman around the age of thirty-five to play the mother of the three girls. Schwartz's first choice was a woman by the name of Joyce Bulifant. Bulifant was a comedienne, and at the time, Sherwood Schwartz wanted the matriarch of the family to be a wacky wife. He changed his mind, however, when Florence Henderson came for a screen test. Henderson came straight from Texas, where she was appearing at a nightclub. She made a deal with the nightclub manager to appear at the club at a later date. When Florence read for the role in front of the camera, Schwartz was impressed. Joyce Bulifant was history and Florence Henderson was crowned queen of television motherhood. For five years, she was essentially mother to ten kids, the six Brady kids, plus her own four children. Even early into the show's run, Florence would get instant recognition wherever she went. When kids saw her, as they did one time in Central Park when she was with her youngest child, Lizzie, they would run up to her and beg her for autographs. Little Lizzie, who was about three at the time of this incident, wanted to make sure those other children knew that she was "Mrs. Brady's" real kid. After a while, Florence sent friends and relatives to take her kids places so they could walk down the street without two hundred people flocking to their mother.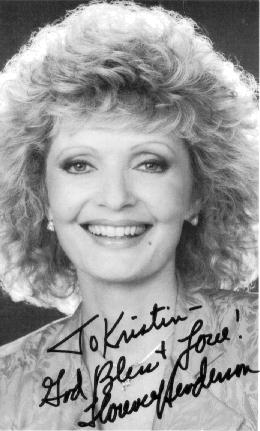 In 1974, after the Brady Bunch made its last first-run episode, Florence toured the country in "Annie, Get Your Gun". She also became a popular guest star on 1970's and 1980's series such as "Medical Center", "The Love Boat", "Fantasy Island", and "Murder, She Wrote". She says that she's been on "The Love Boat" more times than she can count. A few times, she appeared on "The Love Boat" with her TV husband, Robert Reed. In 1976, the Brady clan was back together to do a variety show called "The Brady Bunch Variety Hour". The show only lasted a few months. In 1981, she played the mother of the brides in "The Brady Girls Get Married" and the subsequent series "The Brady Brides".
At around the time of "The Brady Brides", Florence's marriage to Ira Bernstein was breaking up after over 25 years. Florence was also facing stage fright and a fear of flying. In interviews, she has said that during the early 1980's she felt trapped, like her life wasn't going anywhere. When conventional counseling didn't work, she turned to a somewhat controversial treatment called hypnotherapy. She went to the Hypnosis Motivation institute in California for help and it was there that she met her current husband, Dr. John Kappas. Florence credits hypnosis for helping her regain control of her life and lift her spirits. She and John Kappas fell in love and got married in August of 1987.
During the mid-1980's, shortly after a cable network called The Nashville Network came into existence, Florence got her own cooking/singing/interview show called "Country Kitchen". The show ran for nine years and was so successful that four years later, Florence compiled the best recipes and stories about the most interesting guests she had had into a cookbook called "A Little Cooking, A Little Talking, and a Whole Lot of Fun". This book is more than just a recipe book, however. Besides the recipes, the pages are filled with pictures and anecdotes about the guests and stories about Florence's own experiences.
Since "Country Kitchen" went off the air in 1993, Florence has kept busy by giving concerts, making television appearances, and even making an occasional movie. She has made a beauty video called "Looking Great, Feeling Great", sharing her personal secrets to looking good. She has managed to keep up her physical appearance very well. At 62, Florence has the face, figure, and effervescent energy of a much younger woman. She's no gray-haired, rocking chair granny! In 1993, her first grandchild, a boy, was born to her youngest daughter.
Even after the Brady Bunch's original run, Florence has maintained a good relationship with all of her fellow cast members. She is especially close to Barry Williams, who once had a crush on her during the Brady Bunch run. She also has a good relationship with her fans; she responds to all fanmail, no matter how time-consuming or expensive it may be. When you write to Florence Henderson, you will hear back.
In conclusion, Florence has had a very full life and would like to live another forty years or so. She loves life and has a positive attitude, which really shows when you see her. She wants to work for as long as possible and bring happiness, laughter, and joy to audiences for years and years to come.
Written by Kristin Johanson
---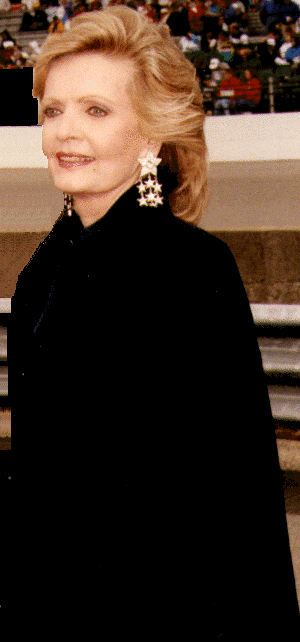 Picture taken at Indianapolis 500
Supplied by Willie307


| | |
| --- | --- |
| | BIO IN RUSSIAN |
| | SHORT CUT COOKING |
| | OTHER CREDITS |
| | TV LISTINGS |
| | CAST AREA |
| | HOME |