12/29/99
ET! Online chooses The Brady Bunch as one of their top picks of most influential tv show.
Read the Story or post your thoughts on best tv show.
12/28/99
In TV Guide (Jan 1-7) Florence Henderson is quoted on the legacy of Frank DeVol, who passed away on October 27, 1999.
Florence Henderson said, "I did the 1999 Macy's Thanksgiving Day Parade, and I must have heard The Brady Bunch theme song 30 times - every block a group of parade watchers would start singing it. He will live on a long, long time for that song. Over the years he remained a very dear person - one of the nicer people in our business."
12/14/99
Florence is in the January 2000 issue of "Vanity Fair" magazine (Cameron Diaz on the cover.)

12/13/99
Australia - in the current issue of Who Weekly is the Brady Bunch cover story that appeared in People Magazine.
Source Glenn Misztal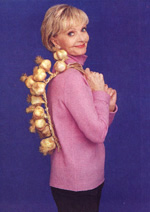 12/07/99
Florence Henderson dishes up Sun-Dried Tomato Bites in the December 11-17th issue of TV Guide.
True Hollywood Story - Gilligan's Island, look for Sherwood Schwartz (creator of Gilligan and The Brady Bunch) coming to E! this weekend.
12/06/99
Growing Up Brady - the Movie Cast Information and More at Barry Williams' Official Homepage.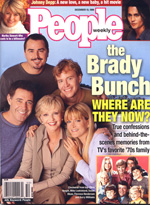 12/04/99
People Magazine with the Brady Bunch cover story will be on newsstands this weekend. Photos from the People magazine shoot not seen in the magazine.
AOL Keyword: People
11/28/99
Susan Olsen is mentioned in the December issue of Biography in the Where Are They Now? section.
Also, we have discovered that Barry Williams and Ann B. Davis are in past issues of Biography magazine.
11/11/99
In the Partridge Family Movie (Danny's version) there is a scene where the Partridges meet the Bradys. It appears in the second half of the movie.
11/04/99
Reminder that Florence Henderson is in the current (November issue) of W Magazine.
Nick-at-nite has done a special feature on Frank DeVol.
10/28/99
Frank DeVol the songwriter that helped write the theme to The Brady Bunch died today at the age of 88.
(Source of News: WTOP News in Washington, DC)
10/16/99
10/11/99
The Brady Lunch Box is out. Check your local collector stores for the item or at Nyla's Collectibles for $13.50, plus $3.20 shipping and handling. Visit the site or call directly (405) 640-0528.
Another place is www.ebay.com but you risk paying more.
09/28/99
In the current issue of Good Housekeeping magazine there is a full-page ad for Carpet One with Florence Henderson
From the Hollywood Insider of TV Guide (Oct 2 - Oct 8 issue), reports NBC is working on a TV movie about The Brady Bunch.
Picture to right actually appears in TV Guide
09/27/99
TV Guide.com talks about the scandals behind The Brady Bunch.
09/24/99
Ultimatetv.com looks at those actors who were so close to becoming Bradys in the recount of how The Brady Bunch got started 30 years ago.
09/22/99
The Brady Bunch celebrates 30 years! TV Guide.com does a huge article on the show. With descriptions and information about all the cast, past and present.
09/21/99
Chris Knight's software company Eskape Labs has just released three new products at the Paris Apple Expo
Press Releases
Eskape Labs' MyTV to Support PAL and SECAM Video Formats
Eskape Labs Announces MyVideo for Macintosh
Eskape Labs Announces MyCapture II for Macintosh

09/18/99
Florence Henderson is in the new movie 'Get Bruce'.
Article at USA Today 9/17/99. (If anyone sees it, let us know how big a role Florence has)
09/15/99
Ultimate TV announces Brady Bunch Marathon and Barry's release of the CD and book
Despite what the article says, there are several additional chapters to the book, Growing Up Brady
09/14/99
09/07/99
Ann B. Davis surprises Florence Henderson by making a guest appearance on 'Later Today' this morning.
Nostalgic Classics will be releasing a new Brady Bunch lunchbox around Christmas time. The item will cost approximately $10-15.00. More details to come.
08/28/99
USA Weekend interviews Florence Henderson
Plus in USA Weekend Who's News question about Florence
(Tip by Kristin Johanson)
A SPOOF article about Greg Brady on Weirdopalooza
(Tip by Doug Rand)
08/27/99
TV Guide and FOX have come together to do a show called TV Guide Confidential. On Tuesday, September 28, 1999 (time TBA), 'The Brady Bunch' will be the focus of the show. Interviews have been done with Florence, Barry, Chris, Mike, Susan, Eve & Sherwood Schwartz.
08/24/99
People Magazine Update: Confirmed - Florence Henderson, Barry Williams, Christopher Knight, Mike Lookinland & Susan Olsen participated in the People Magazine cover shoot. Other cast members will be covered in the article, but no interviews were done.
Barry Williams will be doing over 300 radio interviews in the coming weeks in the Predominate Top 30 Markets around the United States (listen to your local pop stations).
Barry Williams and his wife will be featured in 4-page spread a November issue of Modern Bride
08/18/99
Susan Olsen just signed a deal to co-host a talk show on a new nationally syndicated radio network.
More Details from TV Guide
08/06/99
Barry to host VH-1 Teen Idol Video Collection. Three 1-hour segments to air this month.

08/04/99
Maureen is to begin filming on August 11th for a guest appearance on the second episode of the new Fall season's It's Like You Know on ABC which will air on Tuesday evenings.
(More details to come)
08/02/99
Christopher Knight will have an off-beat cameo in an up-coming film by Paradiddle Pictures called Pride & Peril. The movie is a humorous look at the joys and frustration of parenthood when all of their underachieving and grown children return home just when the parents plan to retire. Chris plays Guru a wisdom delivering metaphysical Peter manifestation (excused as an Acid flashback) of the middle child Michael, helping him see inner truth.
Christopher Knight's company, Eskape Labs, announced a new product at Macworld last week that has been getting great reception (see press release). It was picked as one of the most interesting and impressive products for the iMac displayed at Macworld by the About.com Focus on Mac hardware guide.
07/22/99
07/10/99
Barry to host an up-coming VH-1 Teen Idol special with Ricky Martin, The Backstreet Boys and more...(more news to come)
Special 'Karaoke Cabaret' filmed at the Kit-Kat Club on July 13th, televized at a later date to be announced. Barry to sing 'Rock This Town'
06/25/99
Barry Williams appears in the current wedding issue of People magazine (July 5, 1999, page 89). There is a wedding photo of him and his new bride, Eila Mary Matt. Article included.

06/19/99
In the current issue of Entertainment Weekly, celebrities talk about which Brady they most relate to.
06/12/99
'70s Celebration: The Beat Is Back - The music and pop culture of the '70s are celebrated with the Bee Gees, Donna Summer, Meat Loaf, Brady Bunch cast members, Jimmie Walker, Martin Mull and others.
Airing Friday 6/25/99 9:00pm EST on the Family Channel (check your local listings)
06/11/99
Good news for those who live in Australia: The Brady Bunch is coming back on Foxtel in Australia. They are starting the series from July 5 at 6:30 pm on TV1
Source of news glenn@internet-australia.com
06/10/99
A picture of Maureen and Davy Jones appear in the People magazine Yearbook Edition.
06/08/99
Susan Olsen's appearance on the Burt Luddin's Love Buffet (6/7 -6/9 6pm and 10pm EST) to be discussed on the weekend edition of the news magazine show 'Extra', this coming weekend, (check your local listings).
Source of news the Game Show Network
05/22/99
Florence's yacht/home is featured in Havens II by photographer MICHAEL McCREARY.
To read about the book visit ET Online
Too purchase the book Click Here
05/19/99
05/14/99
05/10/99
Matchbox has released a new Brady car, the black convertible, Greg's first car.
Short Cut Cooking now has an Official Website.
Learn cooking tips, find recipes and more.
04/26/99
Florence appears in the May issue of Biography magazine. Article is about TV-Moms.
04/19/99
We have learned that Eve Plumb was interviewed on the True Hollywood Story regarding Anissa Jones, who played Buffy on "Family Affair."

04/12/99
Regarding the article that appeared in 4/11/99 USA Weekend regarding Ashlee Peterson Priestly and Barry Williams, this is completely erroneous. Barry Williams has no children.
(Source of News: Barry Williams Enterprise, Inc.)
Retraction by USA Weekend printed 5/9/99.
04/09/99
An article w/photos about Florence will be in the July/August issue of 'More' magazine
Source of news.
04/05/99
'Autograph Collector' magazine features 3 page article with addresses for The Brady Bunch (May, 1999 issue)
Check your local news-stand
We make no guarantees as to the reliability of the addresses (Source: Lennon Parker)



03/30/99
True Hollywood Story Update: We have learned that Christopher Knight, Eve Plumb and Shelly Long have participated in the project.
The current projected air-date is June 6, 1999.
'Pop Culture Collecting' magazine features The Brady Bunch on the front cover this month (April 1999 issue).
Check your local news-stand.
(Source: Allison Landrum)
03/12/99
Baby Huey: Great Easter Adventure wins the
Directors Special Gold Award
Internet Movie Data Base has an article about Susan Olsen.
03/08/99
Florence Henderson is suing Serial Killer, Inc. for slander.
One of many articles on the subject.
02/26/99
Susan Olsen was recently interviewed for CBS THIS MORNING by Eleanor Mondale. Air-date Unknown.
02/19/99
Barry Williams mentioned in the current issue of People.
Hurry only a day left on the stands.
Pictures of Barry doing his radio promotion for WMGK in Philadelphia.
Florence in next week's issue of People.
Special for AOL Users Only
02/16/99
A quote and photo of Florence will appear in the March issue of "Bon Appetit" magazine.
Florence is quoted in an up-coming "TV Guide", regarding families on television. (article about 7th Heaven).
Source of News
02/14/99
Entertainment Weekly ranks The Brady Bunch #58 in Television's Top 100 greatest moments in television.
02/10/99
Barry to appear in up-coming issue of Star Magazine
and People Magazine
Watch for them soon
02/08/99
02/05/99
Baby Huey's Great Easter Adventure, starring Maureen comes to video stores on March 2, 1999
02/04/99
In a small, private ceremony in New York on January 30, 1999,
Barry Williams was married. The brides name is Eila Mary Matt.

01/29/99
We have just learned that the EW Internet insert that Brady World will be in is a subscriber only section. For non-subscribers, you must call (800) 274-6800 to order the single issue of the magazine. Ask for the February 5th Issue and clarify that you want the Special Internet Insert for February.
Click Here to read the review.
01/29/99
Florence just did an interview & photos with "People" magazine on January 28, 1999. Do not have an issue date yet.
Source of News
01/27/99
Article about Ann B. Davis at TV Gen,
based on the original article at U Magazine.
01/18/99
We have just learned that the "Everything 4 Less" informercial starring Florence Henderson, Marion Ross and Shirley Jones, also has Christopher Knight in it. He plays a delivery man.
Watch For It!
01/06/99
Susan Olsen in this week's Star Magazine with son, Michael.
01/01/99
Maureen has finished filming 'Fortune Hunter' due holiday season 1999

'Baby Huey's Great Easter Adventure' is due to be in the stores on video March 2, 1999
12/19/98
12/17/98
12/14/98
Viacom is moving out of the retail business and will be closing its 15 Nickelodeon stores in 1999.
12/08/98
Florence Henderson honored by City of Hope organization.
See the Feature at Flo's Official Site.
Picture of her and Susan Olsen together.
(Only a week feature)
11/25/98
Maureen McCormick will begin filming a new movie, Fortune Hunter on November 30th. Her co-star will be Richard Thomas (known for The Waltons).
11/24/98
We have just learned that Sam Locke who wrote several of the Brady Bunch episodes (i.e. 'Amateur Night', 'Two Pete's in a Pod', and others) died on September 18, 1998 of heart failure. (We have reason to believe that his memorial service was yesterday, but this is unconfirmed.) Mr. Locke was also known for writing for shows like "Gilligan's Island", "Green Acres," "All in the Family" and "The Lucille Ball Show". He had no immediate survivors and was 81.
11/23/98
Both Susan Olsen and Sherwood & Lloyd Schwartz attended the City of Hope Women's Council of Orange County dinner honoring Florence Henderson
Read more about the event.
11/20/98
Ultimate TV has done a interview with Florence Henderson
Read It!
New infomercial for "Everything4Less" starring Florence Henderson, Marion Ross and Shirley Jones.
Feature at Flo's Home site.
11/19/98
Maureen McCormick in Seventeen Magazine (Dec 1998 issue), page 34. The picture was taken at the "54" movie premiere.
Source of news: ZQRR19A@prodigy.com (Terri Stpierre)
11/04/98
Exclusive Premiere
Releases the Brady Bunch action figures.
Figures include Marcia, Greg, & Alice.
$19.99/each
Check Toys R Us
Updated 11/6/98 We have just learned that the Carol doll will not be produced at this time.

10/22/98
10/20/98
Ultimate TV has done a interview with Susan Olsen
Read It!
10/02/98
Article appears in TV Guide's Daily Dish about Florence Henderson working with Robert Reed.
09/30/98
Article on The Brady Bunch appears in the September 25th issue of Entertainment Weekly.
Copy of article at the Brady Residence website.
Source of news.
09/17/98
Florence named 'Woman of the Year, Spirit of Life Award' by the Women's Council of Orange County and The City of Hope. The ceremony will take place at the City of Hope on November 21, 1998.
Source of news.
Florence will do the voice of 'Demeter' in Disney's Hercules cartoon series.
Source of news, September 12-18th TV Guide, pg. 119
09/11/98
'Holy Man' with a cameo by Florence Henderson scheduled to be released October 9th

09/10/98
Maureen appears in this week's issue of the 'Enquirer'.
09/09/98
UltimateTV Releases Top 100 Shows of All-Time
Brady Bunch is ranked No. 16.

09/03/98
Maureen appears in this week's issue of 'Star Magazine', page 37.
08/20/98
The Harvey Entertainment Company announced that it will produce a direct-to-video feature entitled 'Baby Huey's Easter, a live- action comic adventure featuring the Harvey classic character ``Baby Huey.'', Maureen McCormick is part of the cast.

08/08/98
New Krofft Book: "Pufnstuf and Other Stuff" by David Martindale
You can now purchase the amazing new book about the Krofft brothers and their weird and wonderful TV shows. Author David Martindale worked closely with Sid and Marty on this project, in fact, both Sid & Marty contributed directly to the book. David Martindale also interviewed dozens of your favorite Krofft actors including: Maureen McCormick, Susan Olsen and many other Krofft Production stars.
The book is over 300 pages long and includes more than 60 photos, many of which are in color. Be sure to check with your local book stores.
Source of news.
08/04/98
Maureen and her daughter, Natalie, are pictured in the August l0, l998 People Magazine in the StarTracks section on page l6
07/18/98
Maureen is being honored by a Motorcade, a Hand Imprint in the Cement Ceremony, and a question and answer period at Disneyworld in Disney-MGM Studios, the weekend of August 8th, and 9th.
07/04/98
Michael Paul Lookinland, plead guilty to drunk driving. At his sentencing May 27, he was fined $1,500 and ordered to perform 24 hours of community service. He also completed court-ordered alcohol rehab in December.


Source of News

In August's edition of Seventeen magazine, there is a picture of Maureen McCormick on page 88. Its just a small one to go along with the lipstick named after her. Here's the little paragraph that goes with it:
Marcia Madness : Die-hard 70's fans will love Two Faced Cosmetics' Marcia, Marcia, Marica lipstick, a frosty-pink, chocolate-flavored lip color named for the girliest Brady of the bunch. Just one for reason for Jan to be jealous. Lipstick, $13.50


Terri
06/27/98
Maureen is on the cover of the July issue of Children magazine. Believed to be a magazine only in the LA area. She is pictured with Natalie. It is a free magazine and can be found at libraries and perhaps other public locations.
06/15/98
Exclusive Premiers
will release Brady action figures
(Marcia, Greg, Carol & Alice)
toys due out in November

05/06/98
Maureen McCormick appears in
the May 11th issue of People Magazine
It is inside a Loreal ad, and the title of the article is "The Girls Next Door" Maureen is pictured on the far riight side of Page 72.
(Leonardo DeCaprio on front cover)
Susan Olsen was in last weeks
issue of Star Magazine
Did anyone pick it up?
02/24/98
New TV show, "Something So Right", about two families coming together is using the Brady tune and the 3x3 opening block for commercials. Watch for it!!
---
02/23/98
TV's Coolest Classic Trading Cards


Inkworks, does not sell trading cards directly to collectors, however, they can recommend a local mail order company that ships US and internationally. They can be reached at 919.786.9116 or faxed to 919.847.9496 for more ordering information.

Collectors can also email inkwks@aol.com with their mailing address, and they'll be happy to forward the ordering information.

Brady World will be putting in their order at the end of the week, if you would like to join in the order, please write us at BradyBfan@aol.com. If you previously contacted us, please do so again at this time.
01/21/98
TV's Coolest Classics Trading Cards
Collection includes trading cards from:
The Brady Bunch, Andy Griffith Show, The Beverly Hillbillies, Get Smart and Hogan's Heros.
Release date: 01/28/98,
Complete Set: 90 Cards
8 cards per pack; box includes 36 packs
Price: $1.99 per pack, $71.64 per box

TV's Coolest Classic Album
Price: $17.95

If interested, contact Brady World
01/15/98
FLORENCE IN PRINT:
Florence is going to be featured in a milk mustache print ad, with 2 other famous TV moms - Shirley Jones and Marion Ross.
Source of information.
01/10/98
Nickelodeon has pushed back the Brady Bunch release date to June, 1998. We will keep you informed of any further developments.
Maureen has officially left Teen Angel, she will not appear in any future episodes. But we will keep you informed of when repeats of earlier shows are airing.
Barry will be doing Music Man in Palm Springs in March and again in October at several theatres in CA.
Barry will also be in a show called Pizazz (with Debbie Boone) at the Palace Theatre in Myrtle Beach..July 6, thru Sept. 19th.